Powegians gathered Tuesday to honor 'Mr. Padre' Tony Gwynn on what would have been the sports icon's 57th birthday.
The town unveiled a memorial statue at Lake Poway Park.
The piece overlooks the baseball field in the North County community that allowed the MLB superstar to be "one of the neighbors," according to Gwynn's wife, Alicia.
— Todd Strain (@TODDSTRAINNBCSD) May 9, 2017
"Tony didn't like a lot of ceremony and didn't like a lot of praise. He was a very humble person," Longtime friend and agent John Boggs said at Tuesday's ceremony. "He would be very touched today and appreciative of this statue ceremony."
The 11-foot bronze statue, created by artist Seth Vandable, shows Gwynn in uniform, waving his ballcap with his daughter, Anisha, on his hip.
Boggs said Gwynn loved Poway and the community.
"San Diego was always in his heart," he said recalling a conversation he had with #19.
"'Boggs, who we kidding. I don't want to play anywhere but here in San Diego,'" Gwynn's former agent said. "That was vintage Tony."
"That we're here on Tony's birthday is bittersweet but what better day to remember and honor a life well-lived but far, too far, short," said Poway Mayor Steve Vaus.
"While false heroes were falling," NBC 7 SportsWrap reporter Derek Togerson writes, "Tony Gwynn was the reminder that there are still good guys out there who do things the right way."
Lake Poway Park Ready to Receive Tony Gwynn Statue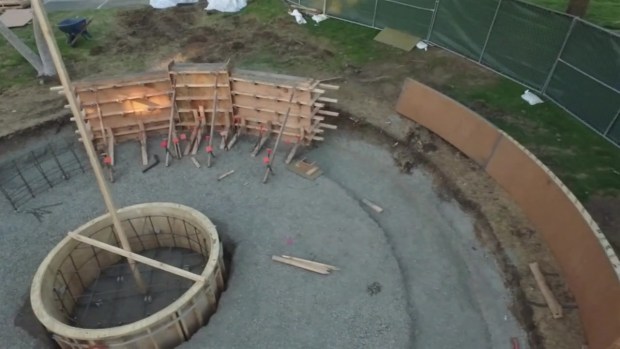 The City of Poway released video footage of the construction and preparation of the site at Lake Poway Park where a Tony Gwynn memorial statue will be erected on Tuesday.
Get the latest from NBC 7 San Diego anywhere, anytime
Source
http://www.nbcsandiego.com/news/sports/San-Diego-Padre-Tony-Gwynn-Statue-Unveiled-in-Poway-421771714.html